SPRO's IP Panoramic Duo Camera - The Future of Surveillance Technology
24 October 2023

Surveillance has taken a revolutionary leap forward with SPRO's new IP Panoramic Duo camera. Engineered for precision and efficiency and boasting a range of features that cater to a vast array of surveillance needs, this camera can be used in a wide range of applications but is especially effective at protecting large areas with only a minimal number of cameras required.
Click the link below to watch the review video now:
Exceptional Imaging
Among the most compelling features of the Duo camera is its incredible imaging capabilities. Equipped with 2 x 4-megapixel, 2.8mm lenses it delivers a comprehensive view and exceptional clarity. Its unique design allows the dual lenses to capture footage from two perspectives and then intelligently stitch them together, providing users with a sweeping 180° panoramic view that's ideal for monitoring large areas such as car parks and retail environments.
DHIPD40-LR-DUO-D-W | Click the images below to have in-depth information about the cameras | DHIPD40-LR-DUO-D-G
Active Deterrence, AI Pro Technology and 'EPTZ' Functionality
One of the most impressive aspects of the newest Duo cameras is their Active Deterrence features. The device comes with a built-in microphone and speaker, which enables users to talk directly with anyone in the vicinity, whether they are greeting guests or attempting to deter any wrong-doing. Several pre-recorded audio messages can also be broadcast through the built-in speaker as an automated deterrent when the system isn't being monitored and its red and blue flashing lights, and siren sound make it clear to any would-be intruder that they've been detected. In addition to its Active Deterrence features, this camera also harnesses the power of AI Pro Technology, resulting in smarter and more efficient surveillance capabilities, with its EPTZ functionality adept at tracking potential security threats and mimicking the zoom-in function and maneuverability of a PTZ camera, despite being a fixed camera.
Images with downscaled quality, click below to see the real footage and in-depth analysis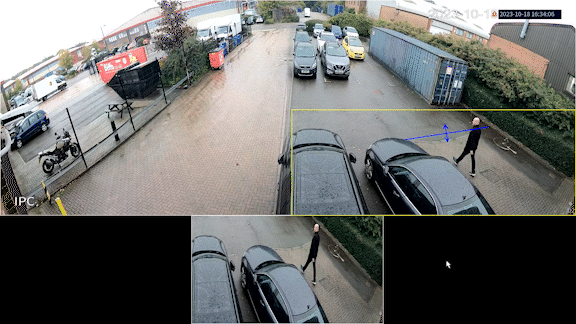 Night Vision Excellence
Panoramic Duo cameras are also highly effective at capturing footage at night thanks to their advanced nighttime technology. Leveraging 'Smart Dual Illumination', this camera ensures that the footage remains vibrant and clear even in dimly lit conditions. Combining an IR range of 25 meters and a White Light LED range of 20 meters, the Panoramic Duo ensures optimal lighting even in the darkest of nights. Furthermore, this camera is equipped with the second generation of Colour Night technology - Colour Night 2.0, which enables the White Light LED to only activate when motion is detected, further enhancing the camera's deterrence capabilities.
Durability, Power and More
In terms of durability, the Duo camera boasts an IP67 rating, making it a reliable choice for a number of different applications. These cameras also have PoE (Power-over-Ethernet) functionality, so you don't need to run additional cables for power, you simply use the same cable you're already using for video. Likewise, its built-in microphone and Audio-Over-Cat5 capability eliminate the need to run any additional cables when audio recording is required. The Duo camera also supports a micro-SD card of up to 256gb.
Conclusion
It is becoming increasingly important to have advanced and innovative surveillance solutions in today's fast-changing world. SPRO's IP Panoramic Duo Camera stands out in this arena, offering the latest technology and a versatile design that meets the diverse needs of users, positioning it as a frontrunner in modern surveillance solutions. For those in search of a camera that seamlessly merges performance with convenience, the Duo Camera sets the benchmark.
If you would like to know more about our Panoramic Duo Camera
Give us a call on




or email us at: